In its 22-years history, KETMAK has carried out more than 1300 projects in the field of mining enrichment and industrial refining and recycling systems in Turkey and abroad.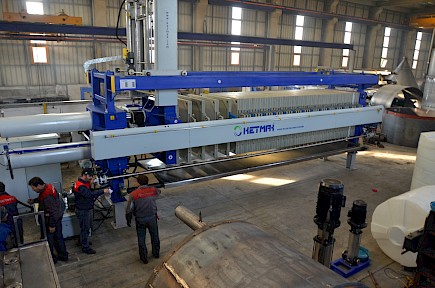 Ketmak produces machinery and equipment used for the reuse of wastewater from natural stone and mining facilities and mine enrichment by using state-of-the-art equipment obeying ISO standards.
Machine Park: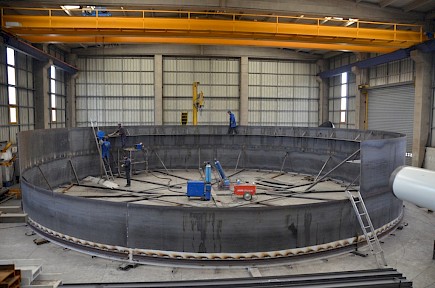 CNC Kia-Hyundai horizontal processing
CNC Mitsubishi central processing
CNC Ajan plasma cutter
Bulg universal lathe
2 meter TOS lathe
2 metre Rus lathe
110 cm MKE router
2 pillar drills
3 bench drills
400 tons friction press
300 mm band saw
250 mm circular saw
22 various welding machines
13 water cooled inert-gas welding machines
1 fully automatic cnc controlled 5 meter welding column
15 mm bending machine
Sanding machine
Komsan compressor
Tamsan screw compressor
5 pcs 10 tons ceiling crane
8 various vehicles for transportation
Daiwoo forklift
Akyapak 2 meter cylinder
Welding positioning machine
4 ball cylinder
Computerized pump test unit
Mining Treatment Plant with Thickener

Equipments: Flocculant Dosing Unit, Dosing Pump...

Mining Treatment Plant with Sedimantation Tank

Equipments: Equalization Basin, Submersible Pump...

Biological Treatment

Biological treatment is one of the most efficient methods for removal of the organic pollutants. Biological treatment is the decaying of the organic materials found as suspended or dissolved in wastewater by the bacteria and the transformation to the fixed inorganic compounds that flee to the…

Test Applications

Ketmak conducts test studies with pre-project laboratory scale and, if necessary, on-site pilot facilities for the treatment plants it undertakes.

Cad-Office, R&D and Automation

Cad-Office is the engineering team of Ketmak overcoming the requirements for R&D and P&D works and for transformation of these works to design. Ketmak prepares its designs on "Solid Works and Autocad" programs using work stations. These processes are the ones carried out in-place by Cad…

Pre Sale Services

Ketmak provides project designing and consulting services before the installation of plants. Project design of a plant begins with taking waste water sample from the plant. Studies begin with the analyses of the waste water in the laboratory, then technical data obtained from the tests applied at…

After Sales Services

Ketmak has after sale service with giving assurance to the customers as keeping all kinds of spare parts such as Ketpol treatment chemicals, Ketpol filter clothes, mechanical, hydraulic and electronic systems used in Ketmak plants in its warehouse. By making "yearly service agreements" with…
06.12.2022

Mining Turkey 2022

See you at the Mining Turkey Fair, one of the most important fairs in the sector ✌ … Hall: 3 - Stand: 322 … #ketmak #miningfair #madenturkiye

09.11.2022

Eurasia Glass Fair '22

We are waiting for your visit to our stand for our special solutions for the glass industry... #ketmak #glassfair #eurasiaglass

08.11.2022

Ketmak is 25 Years Old!

We celebrated the 25th Anniversary of our company with all our colleagues. We would like to thank all our colleagues, customers and suppliers for their efforts at the point our company has reached, and wish to celebrate many successes together.

15.11.2021

Mining Turkey '21

Hope to meet at our 3. Hall 322 numbered Booth in "Mining Turkey Fair" that will take place at Istanbul Tuyap Fair Area in 9th - 12th December.